"Listening in: Radio Dramas in a Virtual Realm" by Margaret O'Brien
Many of us are discovering that the most amazing things can be achieved when people pool their talents and resources, even during a pandemic. Maybe especially during a pandemic. And this week's post on Trasna, the 'Radio Drama in a Virtual Realm' project, is the result of just such a pooling of talent and a model of what can be achieved when many people put their generous shoulders to the wheel.
On Monday, 29th, Tuesday 30th and Wednesday 31st March, 2021, as the culmination of a major creative collaboration, The Tudor Artisan Hub arts collective broadcast three original short radio plays, one each night. There is an intimacy to listening that is particular to radio drama, when we are invited 'in' to another world. You are invited to 'listen in' and enjoy the three radio dramas below: "What Kind of Blue" by David Ryan; "Kintsugi" by Patricia Cantwell and "The Magical Moon" by Eileen Heneghan.
The Radio Drama project evolved out of last year's Legacy Project, which honoured those who died in our community in Carrick-on-Suir under the awful strictures of the initial Covid-19 Lockdown protocols. Because all of the news from nursing homes in the past year has been of the terrible toll of the pandemic on our older citizens, and on their families, this time around Linda Fahy, owner of The Hub, proposed to give voice to those who live in nursing homes. We wanted to hear directly from them of times in their long lives when things had been difficult and challenging, and, crucially, how they had come through, what qualities they had drawn on. This would help all of us to gain perspective as we endured further Lockdowns and the wait and worry re the vaccination programme as it began to roll out.
Each of the three plays here has been inspired by the voice and stories of a resident of a nursing home in Co. Tipperary. They shared stories of difficult times and challenges overcome during a long lifetime, which offers us encouragement and inspiration to deal with our current very real challenges. Indeed the project itself became a practical example of identifying challenges and then finding ways to overcome them. Because we were under Lockdown 5 restrictions we would not be able to meet with the residents, or with anyone else involved. These stories had to be gathered by remote interviews, recorded on phone and Zoom, some by staff members in the care homes, others on Zoom by members of the creative team.
For the next stage in the process I invited writers from Writing Changes Lives to volunteer to participate and thirteen writers stepped up and took on the task of writing a short radio drama, each inspired by the voice of one resident. Maria Clancy, as dramaturg from the Brewery Lane Theatre group, devised a brief mock audio interview, which gave the writers the opportunity to listen and to do a practice play in advance, to get a feel for how they might approach the work. In advance of this we held a Zoom meeting to brief the writers and to answer any questions they might have. To our surprise everyone submitted a draft play and wanted to go on to do the real thing.
They were each allocated an audio file from a nursing home resident and given a very short time frame to deliver their script. None of them had previously written for radio. But they delivered, all of them. Bear in mind that among the many challenges for the writers, the plays had to be written in an 'inter-cut monologue' style, rather than traditional dialogue, because Covid restrictions meant the actors couldn't be together, nor meet with the director, to perform / record. Despite that constraint the standard of writing was really impressive and three were selected by the creative team for production and broadcast for this project. The others have been banked as a resource for future projects.
The three chosen scripts then went on to the directors and actors, all associated with Brewery Lane Theatre, who rehearsed and recorded the plays using a combination of Zoom and recording devices provided by Linda Fahy and The Hub. They completed their work and technical director Pete Smith worked with meticulous care to ensure that each play was broadcast to a professional standard, with appropriate sound effects. The individual design for the graphics was completed by Rehan Ali, another key member of The Hub creative team.
The expressed mission of the project was that it be a, "Keep Well campaign supporting citizens during the Covid-19 pandemic, focusing on switching off from pandemic news and staying connected to each other for the duration." Remember that all of this was achieved under the restrictions and protocols of the then current level 5 lockdown in Ireland, and was brought from inception to broadcast in less than 8 weeks! It included people who ranged in age from 22 to over 90. Just astonishing. It certainly fulfilled its mission.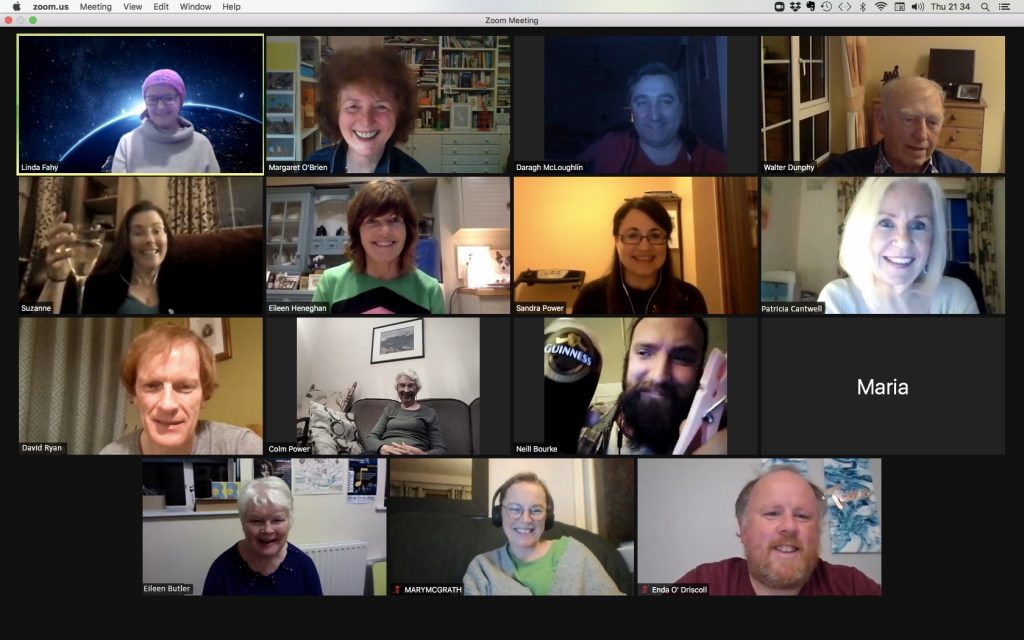 Some of the cast, directors, writers and creative team at the virtual 'after-party'.
We owe thanks to the generosity and talent of everyone involved, it's quite a list, but most especially to Linda Fahy who conceived the project and did Trojan work all the way through, steering and motivating everyone to stay on task and to stay true to her vision. Special thanks go to the nursing home residents who shared their unique stories, which became the source material and inspiration for the plays here. We are also grateful to the Tipperary Arts Office for funding support and for the #HealthyTipperary and #HealthyIreland initiative.
This KEEP WELL campaign is brought to you with thanks to Healthy Ireland an initiative of the Government of Ireland with funding from the Healthy Ireland Fund and the Sláintecare fund delivered by Pobal.
The Tudor Artisan Hub can be found physically in Carrick-on-Suir and on social media as follows: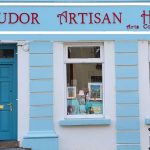 Facebookhttps://www.facebook.com/tudorartisanhub/Instagramhttps://www.instagram.com/tudorartisanhub/Twitter@tudorartisanhubhttps://twitter.com/TudorArtisanHubwebsitehttps://tudor-artisan-hub.business.site/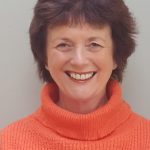 Margaret O'Brien is co-editor of Trasna and lives in Tipperary. She is an affiliate of Amherst Writers and Artists and runs Writing Changes Lives writing workshops, the open mic Poetry Plus, and curates the annual Brewery Lane Writers' Weekend. She has collaborated on several innovative creative projects with Linda Fahy and The Tudor Artisan Hub in recent years. These projects have brought together writers, visual artists, filmmakers, singer / songwriters and have expanded everyone's creative capacities. Her writing has appeared in numerous publications. And, as writers also have bodies, she practices and teaches The Happy Bodywww.margaretaobrien.com
2 Responses to "Listening in: Radio Dramas in a Virtual Realm" by Margaret O'Brien
Eileen Acheson says:May 31, 2021 at 3:02 pmThis project was a joy to engage with here.
I had experienced each wonderful play live streamed.
To see this behind the scenes aspect and the plays again has been a delight.
Eight weeks from start to finish requires one word;
BRAVO.
Breege says:May 31, 2021 at 3:28 pmAn amazing project. Well done to all and you've written a perfect account Margaret. Another triumph from the Hub team.